Warmane Random Dungeon Finder Flaw Analysis
Today, Iwmat to share a big flaw with
Random Dungeon Finder
, I think most of you guys haven't found it yet, so you should read this article carefully because you will find some important point from this analysis. What's more, you can always buy Warmane Gold from
our website
, we will give you the
safest Outland gold
in the game.
The problem I've been getting is players plain refusing to complete certain dungeons and just logging off wishing that they'll be kicked so that they don't obtain the deserter rebuff. Previously 2 days I've experienced 32 RDFs and from individuals, only 9 saw the dungeon beyond the first boss. Irrrve never observed this on retail during this period and it's partly because of people getting multiple different accounts to experience on.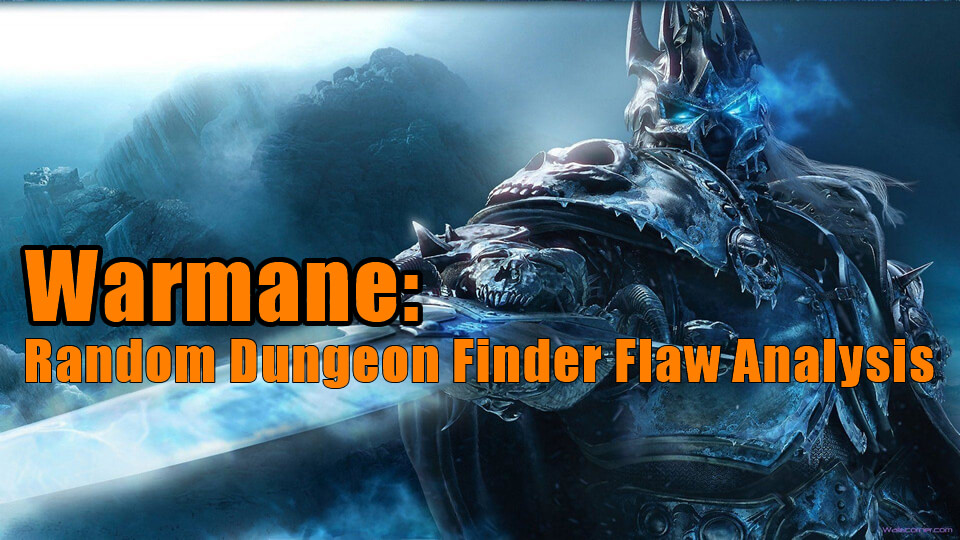 Anyway take yesterday, for instance, I'd exactly the same Bloodstream Elf Holy Paladin 3 occasions during the period of 2 hrs. Within my initial dungeon he goes:
"Kick me, I only perform the TOC/ICC Heroics. Should you don't kick I'll simply go offline."
Now, obviously, we are able to simply kick him however this behavior is totally selfish and toxic. I suppose most people are fed up with this behavior too because considerable time players will rebuttal with:
"No either go ahead and take debuff or perform the dungeon."
Then everybody simply teleports out and dates back as to the these were doing. Now, it leaves players much like me who are attempting to simply prepare within an odd predicament. I'm able to take the "L" and obtain the debuff or wait for an ego to subside and only kick the man offline or someone leaves.
And I have found a really good
Jewelcrafting guide
, and I do as it says, it works well. Now like I mentioned this happened 3 occasions with only one guy yesterday and also since I'm unable to queue for his specific dungeons yet imaginable the way it went. It's made gearing an amazing difficult struggle. I'm sure lots of you say will say enroll in a group but every group requires just like a 4.5-5k GS that we get because they would like to farm badges rapidly. I additionally attempted to create my very own group however it didn't gain any traction.
Regardless apart from reporting, can there be every other way to cope with this? It's truly ruining the knowledge for me personally and merely makes me lose motivation to prepare. Thanks guys.
I personally use ShareX which just instantly uploads the look to puush.com however like I mentioned this isn't only a situation of 1 person, it takes place virtually every dungeon and you may simply get one ticket open at any given time. I understand you are able to edit it but there's a personality limit. It might be much simpler when there would be a forum section which was private to everybody besides mods and GMs you could publish into. This way your ticket isn't full constantly.
I didn't realize there is an indicator section until today and so I guess I'll publish there.
Someone published virtually the very same factor when I did a couple of days ago and also the community simply stated: "Yeah it's something you just need to get accustomed to." That We feel is an extremely poor answer for something which does appear to become a pretty serious problem.
Plus it isn't just CoS - It appears like whether it isn't an ICC/TOC Dungeon or otherwise among the 5 min ones then people just instantly just like Nibvictim stated just like a parrot "Kick Kick Kick Kick Kick Kick Kick" or simply log off and presumably login into another account.
Hope you guys can make some changes to Random Dungeon Finder, after reading this article. Please let me know, if you have different opinions on Random Dungeon Finder flaw, you can leave them in the comment areas.